An honorable member of the Coffee Shop Has Just Posted the Following:
How To Deal With Gold Diggers!!!

November 7th, 2011 | Pick Up Tactics
Gold Diggers
are females who are intentionally seeking wealthy men. They are interested in money and their way to getting it is by using their sexuality and attractiveness over rich males. Here you are going to learn how to deal with such women – the gold diggers.
There is a publication in this blog about the subject of women and money where the relation between these 2 things is very well explained. There is a myth that all good looking women are searching only for men with money. That's not true. But it is true that there are many women who are looking to profit from rich men. They are seeking sponsor or sugar daddy or however you want to name it. They are not necessary attracted to them, they just use them. It is their way to solve financial problems and getting a good life.
Now if you are a man who likes to be tooled by women and pays every time for sex, don't read more. But if you are not, the following information is going to be very useful in your dating life, so pay close attention…
First,
How To Know If A Woman Is A Gold Digger?
Gold diggers are everywhere, especially in elite hotels, bars and clubs. They are not going to cheap places because usually rich men are not going there either. Most of the time they are groups of 2 or 3 girls. Sometimes they are alone and in rare cases they are 4 women or more, without males in the group. They are good looking, very well groomed, wear a lot of make up, nice perfumes, provocative, but not slutty dressing style. These women have really big self-esteem.
When they are talking with man who is their target, they usually use a seductive voice right from the beginning, which is uncommon, women tend to be friendly. In many cases they are going to approach the man, which again is not common thing.
There are several things that they are looking at when measuring a guy's value. These are his shoes, clothes, watch, cellphone, jewelry. They are usually asking for your profession, about how much you are making. They never pay the bill and if you happen to be in a relationship with them, they are constantly asking you for money. A lot of times they are too nice and act really fake.
Now…
How To Deal With Female Gold Diggers?
I assume that you don't want to have a long relationship with such a woman, where she has no feelings for you and basically you are paying her to be with you. But you may want to just have sex with such a girl, so here are some tactics that will help you.


Case 1: You have a lot of money

If you have money, she is looking for you. Demonstrate her that you have what she wants, tease her with it, but do not give her anything. She is gaming you, you have to game her too. You can use some of you pick up arsenal tools, but you don't need them so much. You can act like her "victim" but actually being in control. Odds are she is going to have sex with you. Then you just dump her.


Case 2: You don't have a lot of money

You have 2 choices – act like you are rich (it's not very easy, these women have hell of a radar) or use your A game. If you can convey to her that you are rich, follow the advice from case 1. If you choose the second option, you better be good. Social proof and pre-selection are crucial, frame control and body language even more. You have to crush her values and raise yours. Never be cheap for yourself, but no money to her. Btw this way you probably are going to attract her for real.


Case 3: She is not really a gold digger

I've seen so many girls that think and believe they are seeking for rich men but actually end up in normal relationships with normal guys. They think one way, but they act another way, this is very common for women. They don't know what they really want on a logical level, they have to feel it, but before they feel it they have to experience it.And again attraction is not a choice. You can attract women no matter if you are rich or not, or if they are gold diggers or not.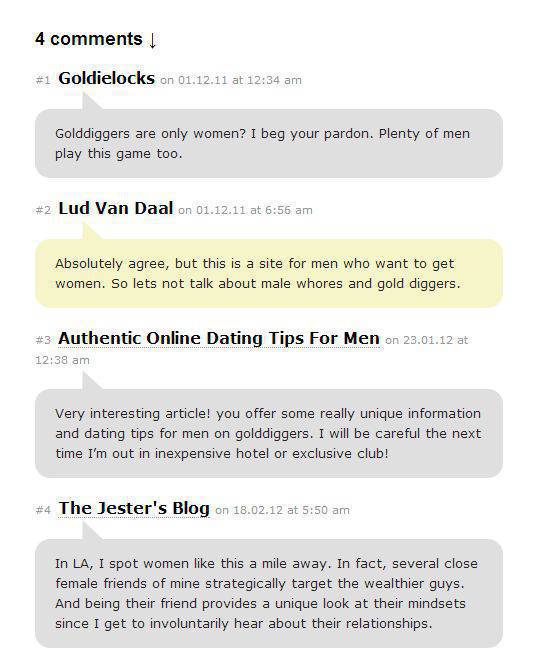 Click here to view the whole thread at www.sammyboy.com
.